Mon, 08/08/2022 - 08:44
Senate Democrats pass climate change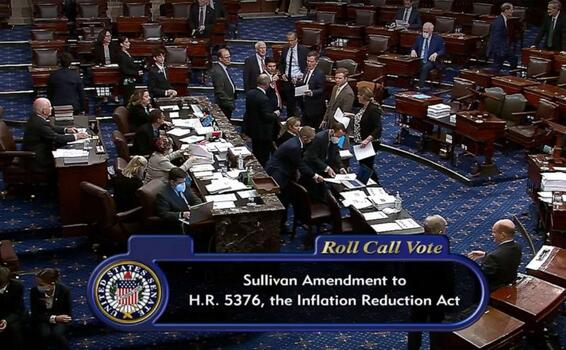 Senate Democrats pass climate change, health care, tax reform package
WASHINGTON — Senate Democrats on Sunday passed a sweeping climate change, health care and tax reform package, banding together as a caucus to vote down dozens of Republican amendments in a marathon session that delivered Democrats a legislative victory heading into the midterm election season.
The $739 billion bill named the Inflation Reduction Act will revive key portions of President Joe Biden's domestic agenda — it calls for directing about $370 billion in federal funding to address global warming and gives the federal government's Medicare program the ability to negotiate prescription drug prices. The measure also would set a new 15% minimum tax on some corporations that earn over $1 billion in profits annually.
The measure passed 51-50, with Vice President Kamala Harris serving as the tiebreaking vote after nearly 17 hours of debate that started late Saturday night and stretched until Sunday afternoon. Republicans had proposed nearly three dozen amendments looking to derail passage of the bill, but Democrats held together to vote down the proposals.
Fuente consultada https://www.newsday.com/